About The Area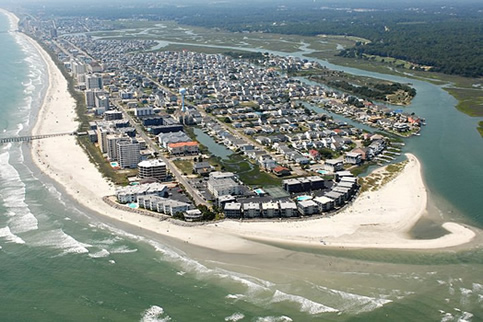 Cherry Grove
Travel to the northernmost part of North Myrtle Beach and you will find yourself in Cherry Grove, a residential area located between the beach and a salt marsh inlet. In 1968, Cherry Grove joined Ocean Drive, Crescent Beach and Windy Hill to form the City of North Myrtle Beach. Cherry Grove is known for the Fishing Pier at the Prince Resort, the widest beach along the Grand Strand and saltwater channels.
You will have a fabulous water view no matter where you stay in Cherry Grove. Bring your fishing equipment on your Cherry Grove vacation because you can fish from the dock of your channel vacation home, a charter boat or the pier.

Cherry Grove has a large grocery store, hardware store, a few restaurants, shops and seafood markets. Stop by an oceanfront bar for Happy Hour. When everything you need is right around the corner, why would you stay anywhere other than Cherry Grove?

Ocean Drive
Ocean Drive is the heart of North Myrtle Beach, South Carolina. Located along Main Street, OD is the birthplace of shag dancing.
The intersection of Main Street and Ocean Boulevard is the center of OD. Here you will hear beach music, smell delicious seafood, and feel the sea breezes blowing. There are several beach clubs in the area for shag dancing and nightlife. Ocean Drive plays host to two large shag festivals a year. You do not want to miss out on this exciting carnival-like experience.
If you are looking for family activities, Ocean Drive has plenty to offer in that arena as well. The O.D. Pavilion is an oceanfront amusement park featuring rides, games and food. Families are often seen strolling down Main Street, shopping in the boutiques, eating at local restaurants, and treating themselves to dessert. Of course, the wide beach is right here for your unlimited enjoyment. Resorts with family-friendly amenities line Ocean Boulevard with indoor pools, lazy rivers, kiddie pools and more.
Ocean Drive is a fabulous place to call home while vacationing in North Myrtle Beach.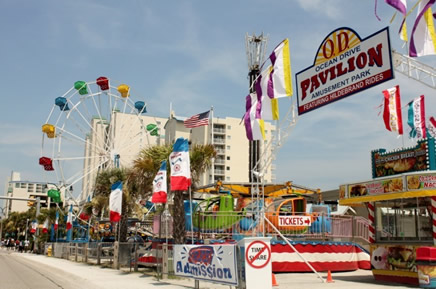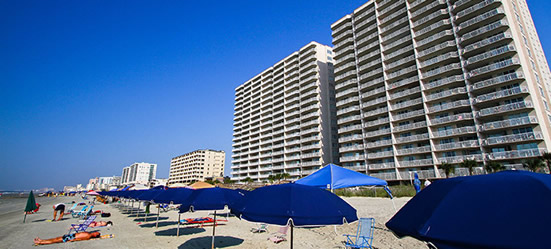 Crescent Beach
Prepare for a wonderful beach vacation in Crescent Beach. The wide, sandy beach beckons you to relax and spend some time along the shore. Crescent Beach has something for everyone – from the oceanfront condos and houses to the more secluded off-ocean homes, you will be very comfortable in this part of North Myrtle Beach.
Crescent Beach is home to mini-golf courses, championship golf courses and numerous dining options. There are restaurants to suit all tastes and budgets, with options ranging from Italian to seafood to oceanfront cafes. Conveniently located near Main Street in North Myrtle Beach and the amusements of Myrtle Beach, you will be glad you stayed in Crescent Beach.
Windy Hill
Windy Hill is the center of activity in North Myrtle Beach. This section of the beach is conveniently located near the more residential areas of North Myrtle Beach and the excitement of Myrtle Beach, giving you the best of both worlds. Many vacation rentals are located within walking distance of Barefoot Landing, a shopping, dining and entertainment center. Visit the reptiles at Alligator Adventure, see a show at the Alabama Theatre or catch your favorite band at the House of Blues.
Also near Windy Hill is a Tanger Outlet Center and the Myrtle Beach Mall. Windy Hill is perfect for relaxing and for playing. It offers accommodations to suit every need. Soak up the sun while watching the children build sandcastles and then enjoy the area nightlife and dining right outside your door.